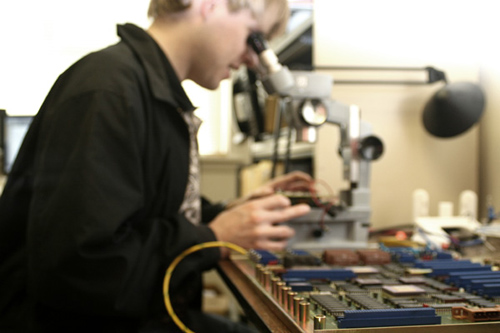 IASResearch and Development Corp.'s experienced engineers and technicians provide innovative solutions that go beyond the capabilities of similar development companies. Often our teams are called upon to create a solution or to fix a productivity problem that an off-the-shelf product or competitor could not handle.
We rise to every challenge, many times bringing a previously attempted project in for less money and in less time. For instance:
IAS Corp. created a grommet inspection system that revolutionized how rubber grommets are tested. This was after the client had tried several "off the shelf" vision inspection systems that failed to produce what was needed.
IAS Corp. produced a "Pre-Applied Re-Melt System" that a competing development company was unable to provide after 5 months of trying. IAS Engineers developed a better solution in only 5 weeks.
Read more about this specific project.


After another company tried to create a system that would program and debug a motor winding machine, IAS Corp developed a solution that offers an even faster cycle time than comparable machines.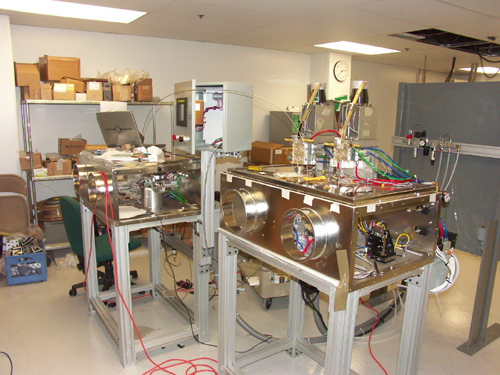 At IAS Corp, engineering R&D is at the core of how we operate. With more than 30 years of experience, we have a solid track record for developing innovative engineering solutions that save our clients time and money. We know how to make things work even when others say it is not possible.
Our specific engineering capabilities include:
System design and construction
C++ Programming
Idec PLC Programming
Siemens Set7 Programming
System set up and installation
Training and support services
IAS Corp. also offers the ability to create functional models or working prototypes that allow us to see how an idea will work BEFORE going through the expense of further product development. It's one more way we work with you up front so together we produce better end results.
Read more about Engineering R&D Projects, including:
Grommet Inspection System
Hot Melt Roll Coater
Pre Applied Re-Melt System
Envelope Quality Stations
Optical Counter
IAS Corp. offers complete engineering research and development resources and services. Whether you have a small part that needs testing or an entire facility that needs to run more efficiently, contact IAS Corp. today to see how to put our engineering research and development capabilities to work for you.