IAS Corp has completed many successful projects to automate and improve production lines. We help update existing lines, or design and develop new solutions from scratch or rough concepts, through installation and testing.
IAS Automates Assembly Line for Railway Ties
In 2013, a leading Virginia robotics integration firm, IAS Corp. has reportedly developed the first fully automated railroad turnout processing system in the world. This process revolutionizes an industry that dates back over 230 years. As this correspondent has discovered, these spurs that allow trains to move off the mainline are traditionally hand produced by laying them out on pads using manual labor and has been since the inception of the age of railroading.
This new and revolutionary system, now capable of producing a short, low speed turnout in a day, uses four large Yaskawa Motoman Robots on precision rails that allow travels up to 30 feet along with high speed conveyors that move the blank, unprocessed ties. A crane system at the end of the production line stacks each tie into a coordinated bundle depending on length and type of plating on each tie. Ties are automatically gaged to determine if they are correctly plated and rejected if not to be passed down the line. Drilling and plating numerous tie plates, including custom, gage and standard during spiking without human intervention while holding gage (the width between each rail) which is very difficult, but achieved.
The firm, IAS Corp. with corporate offices in Hampton, Virginia and a large fabrication facility in Houston, Texas is reportedly 22 years old and involved in transportation, energy (oil/gas and nuclear) as well as chemical automation projects. We offer many robot effectors and we can engineer to your spec!
---

IAS Automates Assembly Line for Major Cordless Drill Manufacturer
Automation was a key requirement when IAS Corp developed and installed equipment for a cordless drill manufacturer's assembly line. The solution automated armature impregnation and handles 5,500 armatures per shift. We programmed, configured and installed a fully robotic solution, that includes regulated IR ovens with thermal vision checking for hotspots. There is also an outer closed loop for temperature regulation.
---

STIHL Turns to IAS for Laser Etching Solution
When STIHL Power Tools needed an improvement to the company's production line they turned to Industrial Automation Specialists (IAS Corp) in Hampton. STIHL's Virginia Beach manufacturing plant had used IAS Corp in the past for automation solutions and selected the firm again to develop a new solution for the blower production line.
The IAS Corp team brought their specialized expertise to the project, installing electrical components, the laser marker, sensors, pneumatics and wiring. IAS also performed initial testing, before delivering the completed machine to STIHL for integration into the manufacturing line.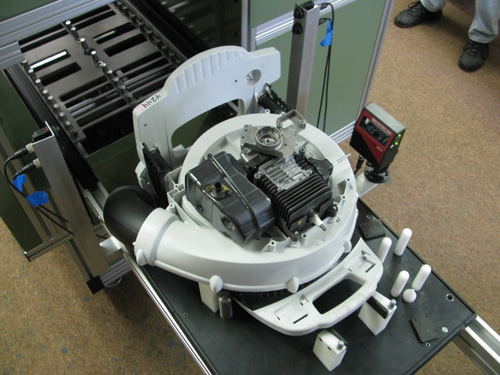 The result is an improved process that handles engine marking for two different blower types. "As the engine moves Control panel for laser etching on engine componentsinto position on the production line a sensor reads a bar code and then moves the engine into position. The laser then burns a unique serial number onto the engine case based on the bar code," explains IAS Corp Project Manager Dave Wallace. "At the same time the laser is firing the next engine is moved into position and the sensor reads the bar code."
Wallace said the machine knows which blower model is in place by reading the bar code. "It's part of a continuous moving conveyor, with stop gates, so there's no interruption in the manufacturing process," he added.
"Our sweet backpack blower with laser etching on enginespot is providing the whole project from mechanical, structural, electrical and programming for all automation projects, big and small," said Wallace. "However, we can take on a project at any stage. This is an ideal project for our firm – we can handle the sensors, the programming and debugging, and the control systems all in-house." He said the firm takes great pride in providing turnkey solutions and working closely with manufacturers and their design teams. This keeps costs and schedules manageable and allows the company to maintain their high quality control standards.
IAS Corp is headquartered in Hampton, Virginia's Langley Research Park and has locations in Chester, Virginia, and Houston and Humble, Texas. The firm combines design, engineering, technical and manufacturing expertise to develop custom equipment, machinery, production lines and automation controls for diverse industries.
---

Greystone Plating Lines for Bosch Injector Components
Automation can have a profound impact on quality and efficiency, even in areas not traditionally associated with automation. For example, IAS Corp helped improve Greystone Plating lines for Bosch injector components. The automated assembly line handles chrome and zinc plating in precise measures on the small injector parts. This is a perfect example of applying automation and controls to a manufacturing process that has traditionally been more manually operated.
The image at the right shows a fully automated plating line. The orange hoist in the background automatically picks up a rack with parts on it and puts them through the plating process, then unloads the rack after the plating is completed. The entire process is controlled with a custom software package and control touchscreen that IAS designed, built and installed, and now maintains.
Contact us today if you have a manufacturing line you would like to automate.