From stand-alone table top units to fully automated systems integrated into existing assembly lines, IAS Corp. builds solutions for companies that need to increase productivity and add efficiency to any type of industrial operation. There is a reason automation is our middle name. Our experienced engineers and machinists complete automation jobs quickly, effectively, on time, and within budget every time.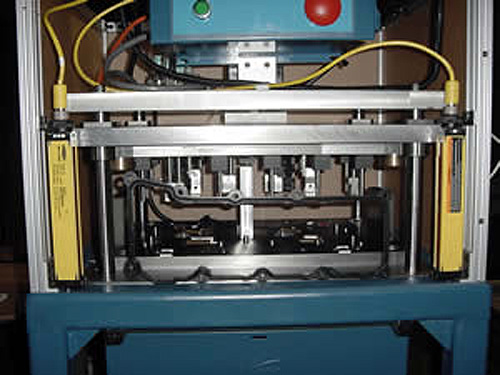 Our comprehensive automation system design and capabilities include:
Complete turn-key automation lines
Task/Function specific stations
Integration of new components into existing lines
Conveyor design and construction
Retrofit of outdated lines with new controls
Software for line control and monitoring, including: C++ programming, Idec PLC programming and Siemens Set7 programming
Quality control and inspection stations
CAD/CAM design for seamless integration
Remote monitoring systems
Electrical components
Custom controls
Automation equipment troubleshooting and repair
Operation manuals
Operation training and support
IAS Corp. has developed a particular area of expertise within the adhesives industries by creating automation systems that are built to exacting standards and offer swift returns on your investment. Examples include:
IAS Corp. built an automated system that glued metal limiters into cork gaskets for Chrysler oil pans. Reduced adhesive wasted helped create a ROI for this system in less than one year.


A ROI of less than six months was offered on a system IAS Corp. developed that reduced the amount of waste in the manufacturing of recreational vehicle and motor homes walls.
Read more about a few of our Past Automation & Efficiency Projects.
IAS Corp. offers complete automation and efficiency resources and services. Contact us today to see how to put our capabilities to work for you.