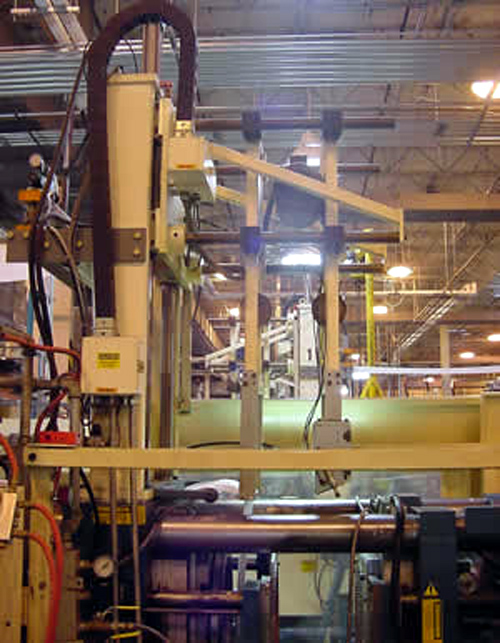 From giant wind turbines to microscopic vision testing systems, IAS Corp. offers mechanical and automated solutions that save time and money.
With decades of combined practical experience our team of engineers and technicians continually solve complex electrical, mechanical, chemical, and software issues, from which others have walked away. IAS Corp. capabilities include:
Large & Custom Machines
IAS Corp. began knowing how to make machines work more efficiently and more reliably. Today IAS Corps machines we've built and serviced continue to be in use world-wide. grommet unloader custom machine
Mechanical engineering & design
Controls & electrical design
Application specific software
Mechanical, electrical, & hydraulic retrofitting
Emergency service & repair
Engineering Research & Development
With more than 30 years combined engineering expertise we have a solid track record for developing innovative machines, practical tools and software applications that save our clients time and money.
System Design & construction
C++ Programming
Research
System set up
Training and support
Automation & Efficiency Systems
IAS Corp builds systems that make your jobs easier to operate, more efficient, and offer a greater return on your investment.
Electrical components & installation
Pneumatic components & installation
Electrical & Pneumatic schematics
Assembly Machines and Lines
C++ Programming
Siemens Step7 Programming
Idec PLC Programming
Integration into existing equipment
Operator training & manual
Remote monitoring
Quality Control & Inspection Systems
IAS Corp. engineers have a proven track record of building and maintaining systems that offer more accurate and controlled ways of "processing" your business. Robotics, vision systems, controls, test and inspections, we successfully integrate new systems that offer you a greater return on your investment.
Custom Software applications
Control Systems
Vision Inspection
Measurement Systems
Fixture Testing
Equipment & Control Retrofit and Repair
Adhesives Testing & Control
We are members of the Automation Direct SI Direct Integrators Program.

Project Management
IAS Corp. has a proven track record of providing companies an outsourced resource that brings projects in on time and on budget. Whether all you need is a technician to verify a piece of the process, or want an experienced engineer to lead your project the whole way, contact IAS Corp. to see what is possible.
System design & build
System setup & installation
Emergency service
Large Equipment retrofits & repairs
Operator Training & support
IAS Corp. is an authorized integrator/distributor of:
Fagor Automation & Measuring systems
Baldor Motors & Equipment
Cognix Vision Systems
Hexagon
Integrated Quality Metrology Systems
IAS Corp. maintains an large selection of equipment, machinery and softwware to ensure we can quickly respond to customer needs with a minimum of downtime. These include:
Design and Integration Software from:
Alibre Design Studio
BOBCAD/CAM V23
Protel/Altium Designer
Algor Finite Element Analysis & Simulation software
Siemens Step 7
A-B RS Logix
A-D DirectSoft 5
Other Custom Programs and Software Tools
Setup & Measurement Equipment:
Renishaw Ballbar set
HP Laser Linear Displacement/Calibration System
Fluke 3 Phase power quality measurement system
Infared Camera
Bearing Thermal Analysis system
48 Point Analog/Digital Data Acquisition System
Brown & Sharp Vallidator CMM
Other assorted Measurement and Geometery tools
Production Machinery & Equipment:
Milltroncs Partner1 CNC milling center
Hurco KM-3P CNC Mill
Yang SML-20 CNC Lathe
Summit SNB400 Manual Lathe
Monarch 10EE Toolroom lathe
Bridgeport Standard J Mill
Wells Index standard J Mill
Kitamura Mycenter CNC Mill
Carver 2518 Heated Lab Press
Napco Scientific E series Vacuum Oven
Z Corp Z310 3D Printer
YCI Supermax Universal CNC Mill
Sumitomo C250 Injection Molding Machine
Excello Ram Turret Router - Custom
Jet HP35 manual press
TJL Foot Shear
Don G Jenness Hand Brake